Dr. Meena offers two types of teeth whitening to Pleasant Street Dental patients in order to safely and effectively revitalize smiles - customized take-home whitening trays and ZOOM in-office whitening. A customized take-home whitening kit allows one to control the color change of your teeth in the comfort of one's own home. Depending upon your desired results, Dr. Meena will provide special instructions to help you achieve your desired result. Patients love this option because of the comfort and flexibility they have over their whitening experience and because there is little to no tooth sensitivity during or after the treatment.
If you desire immediate results, consider ZOOM in-office whitening. Philips Zoom WhiteSpeed is a teeth whitening procedure that is applied chair side. It is ideal for anyone looking for immediate results.Philips Zoom is not only proven to whiten teeth up to eight shades, it's also safe. While other whitening products can harm teeth and gums, using Philips Zoom actually gives you greater luster and protects enamel. Philips Zoom is only available at a dentist's office to ensure optimum safety. Using a specially formulated professional whitening gel, you may notice a boost in the shade of your teeth in about one hour. This option is perfect for anyone who is looking for the quickest whitening experience possible.
Over-the-counter whitening products promise the same results to everyone, but fail to deliver. Everyone's smile is unique and thus different teeth require different teeth whitening options. While there are many over-the-counter remedies available to whiten teeth, nothing is safer or more effective than a treatment that is supervised by a professional dentist.
A custom teeth whitening kit by the best dentist in Worcester, Dr. Meena, is among the best ways to enhance the way you look and feel about your smile. Discuss your smile concerns with our talented dentist by contacting Pleasant Street Dental today!
The attached photos are 'Before' and "After' pictures of patients who had a single one-hour 'Zoom' session! Obviously, much better results are possible with additional sessions. Please visit our Smile Gallery to see more pictures of happy patients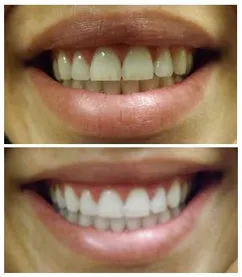 CUSTOMER PROFILE #2
Patient was unhappy with the color of her teeth. She was also starting college at a new location and wanted to put her best foot forward. Various options were discussed and together we decided that the ZOOM teeth whitening technique would give her the best result in the shortest amount of time. After just one session, she was very happy with the result.