This page includes descriptions of our office location, including a map and directions, hours, appointment scheduling, insurance acceptance and billing policies.
Pleasant Street Dental
101 Pleasant Street, Suite 201
Worcester, MA 01609
(508) 752-2485
Office Hours
Monday:
09:00 AM - 05:00 PM
Tuesday:
09:00 AM - 05:00 PM
Wednesday:
09:00 AM - 05:00 PM
Thursday:
09:00 AM - 05:00 PM
Friday:
09:00 AM - 03:00 PM

Click here for door to door driving directions
Appointments
We know you have many choices when choosing a dentist in Worcester, MA so we have made requesting an appointment a simple process via our Web site. If, for any reason you cannot keep a scheduled appointment, or will be delayed, please call us as soon as possible.
Insurance and Billing
Pleasant Street Dental proudly accepts MassHealth patients. In addition, we accept most traditional insurance plans, contact our office to verify acceptance of your plan. We accept checks, cash or credit cards. We also offer a flexible payment plan. Please see our Office Manager for details.
Payment Options
We accept checks, cash or credit cards. We also offer a flexible payment plan. We are pleased to offer CareCredit financing option for our patients. Please see our Office Manager for details.
Financing Options

CareCredit is here to help you pay for treatments and procedures your insurance doesn't cover. We offer No Interest* financing or low minimum monthly payment options so you can get what you want when you want it. You can even use CareCredit for your family and favorite pet.
With three simple steps, including an instant approval process, it's easy to apply for CareCredit. After you're approved, you're free to use CareCredit for your dental services.
CareCredit is endorsed by some of the most credible organizations specific to each healthcare profession we support. And CareCredit is a GE Money Company, so you know you can count on us. For over 20 years, we've been helping over five million cardholders get the healthcare treatments they want and need.
Now you don't have to worry about saving up for the procedures you want and need. With CareCredit, the decision's in your hands to get what you want, when you want it. For more information or to apply online, visit carecredit.com
Facilities and Equipment
Digital X-rays
Intra-oral Camera
While X-rays provide valuable information that we cannot get from any other source. That's why our office has invested in an intraoral camera - an advanced piece of diagnostic equipment that allows you to see what we see inside your mouth.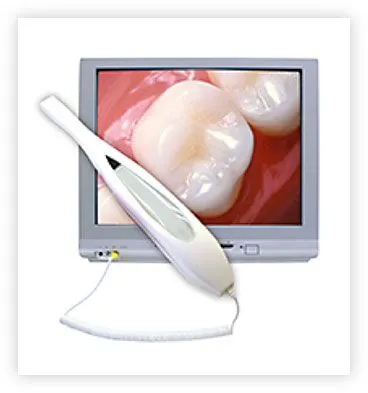 The intraoral camera handpiece is approximately the size and shape of a dental mirror. It has a built-in light source and serves as a tiny video camera that allows us to zoom in on one tooth with 25 times magnification, or give you a 'video tour' of your entire mouth. The images are displayed on a computer monitor, so you'll be able to see problems such as worn or broken fillings, cracked teeth, plaque deposits, cavities next to fillings and excessive wear. In addition, the camera may reveal the early stages of potentially serious problems, helping you make an informed decision about your treatment options. Secondly, the camera's honest survey can show in a moment how well you're doing with your regular home hygiene. This helps us to realistically assess what steps you might need to take on your own to improve things. We can also print an image for you to take home with you.